Trainee Case Study 1
The following case study has been completed by Karen Porter, a 2017 - 2018 school direct salaried trainee. Karen's host school was South Farnham School and Karen completed a second placement at St James Primary School.
Karen changed careers to train to teach. Karen's degree was a Combined Honours in English and German (High 2:1) 1996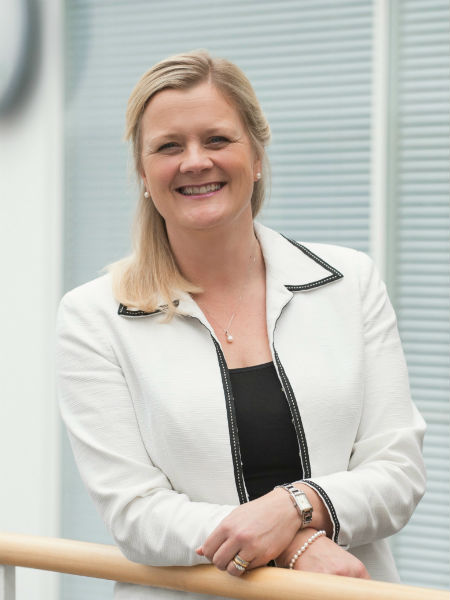 Why did you decide to become a teacher? What inspired you?
Teaching had always been on my shortlist of potential careers but my degree choice initially led me towards publishing and then public relations. After twenty years in this business, I decided it was time to 'put something back' and have a positive impact on future generations. I saw the Get into Teaching campaign, started to plan my career change and the rest – as they say – is history.
What makes Surrey a good place to live and work?
I have lived in Surrey for most of my adult life – it's conveniently located close to many great amenities but also has some amazing countryside which is fantastic for enjoying walks with the dog. Both the coast and the capital city are within forty minutes' reach, making it an ideal location for my family's lifestyle. Fortunately, there are some amazing schools in this area and my host school is very close to my home which means I no longer have to endure a time-wasting commute.
Can you give us an overview of the training/ how did your training prepare you for teaching?
I can honestly say that the training has been fantastic. The SSF SCITT team is highly organised and made sure that all of the key paperwork, including a reading list, was issued far in advance of the school year which gave me plenty of time to do some reading and feel prepared. I was immediately paired up with a wonderful mentor who has helped me at every step of the way, giving me frank feedback, encouragement and advice when I have needed it.
The weekly professional training sessions covered the key topics such as behaviour management, special educational needs and safeguarding as well as guiding trainees gently through the subjects that we need to cover as primary school teachers. The trainers were all highly experienced and professional which helped us all to feel that we were in safe hands and most of them left their email addresses behind in case we had questions afterwards.
My teaching experience began very early in the school year with a couple of lessons each week and the teaching hours have increased gradually to allow plenty of time for confidence to grow. In between teaching and training, there have been plenty of opportunities to observe experienced teachers which I have found invaluable in appreciating what good teaching truly looks like.
Finally, the school based tasks and assignments have really helped me to focus on key areas on teaching. They have provided a real focus and context to the all-important Teachers' Standards and were invaluable during the Final Assessment process to demonstrate just how far I have come in a relatively short period of time.
Did you receive financial support while you trained as a teacher / if so how did this support help?
I was lucky enough to be accepted on to the School Direct Training Programme (Salaried) which has given me a modest monthly income over the last ten months. I would not have been able to have changed careers without this financial support – for me, it was a crucial facilitator of this change.
What has been your career progression to date/what opportunities are available in Surrey as a teacher?
I have recently been recommended for Qualified Teacher Status (QTS) and I am delighted to have been offered a teaching position for 2018/19 at my home school, South Farnham School. For the next twelve months, I intend to focus on honing my teaching skills and ensuring that my new class have a fabulous year in school. However, I am keen to progress in my new career and will seek opportunities to get more involved in areas of school life (especially those that draw upon my well established skills and experiences from my previous career).
How does your school support (your) career progression?
Developing teachers is a key part of my school's ethos and the Senior Leadership Team works hard to ensure that it is supporting all staff to reach their goals. It runs a range of training courses including a Middle Leadership Course and it encourages experienced teachers to pass on their knowledge of the profession by becoming mentors and/or support tutors to new members of the SCITT.
Can you describe the process of applying for teacher training/was it easy/do you have any tips?
I recall spending a reasonable amount of time reading through the pages on the UCAS website in order to understand what was required. I also spoke to some very helpful advisors over the phone who answered my questions and put some key concerns to rest. My top tip is: ask lots of questions and make sure that you are entirely comfortable before putting in the application.
What was the most important thing that you gained or learned from teacher training?
I recall one of our trainers talking to us about behaviour management and stressing that the majority of children are keen to learn and eager to please. For that reason, he urged us to 'catch them doing something good'; focus on the positives instead of dwelling only on the negatives. He also reminded us that we 'create our own weather' in the classroom – if teachers are positive then the children will be too.
What is it you like most about being a teacher?
It is so hard not to answer this is cheesy way, but the days when I skip across the car park on my way home are when I feel that I have made a positive difference and the children have enjoyed their learning. I love it when children say they went home that evening and spoke to their parents about the lesson or looked the topic up on the internet in order to learn more. It is so rewarding to think that I have passed on that excitement and enthusiasm and engendered a love of learning.
How has training to be a teacher changed you as a person?
For a while, I felt that I had lost my sense of purpose and I am delighted to say that I now have this in spades! I jump out of bed in the morning (well, most of the time), I know exactly what I need to do and why I need to do it. On the whole, the children reward me for my efforts and I love being part of the school community, surrounded by colleagues who are keen to do the very best they can. I have learnt so much this year and my mind has been opened in a way that I didn't think was possible. I can honestly say that I haven't looked back once.
Any further comments
I think it is important to state that this was a very intensive year that required my 100% commitment. I don't believe that it can be done half-heartedly and I would urge anyone who is thinking about it to ensure that they have the support of family and friends to ensure that they are setting themselves up for success.