Alumni & NQT
We stay in touch with our trainees and continue to offer opportunities for training and support. Please make sure that we have your up to date contact details - use the form on the left hand menu to update your contact details.
Did you know that South Farnham Teaching School will continue to provide career-long training from NQT support to Headship. Click here to find out more or email cdonnachie@sfet.org.uk.
NQT events and conferences will appear here.
Don't forget to send anyone who you know wants to consider a career in teaching our interactive PDF (download below).
Follow us on Twitter (@ssfSCITT) for the latest educational news and views.
'Like' our Facebook page (Surrey South Farnham SCITT) and write a review of our training.
Make sure that Eukaria has your most up-to-date contact details so that we can send details of NQT conferences, courses and leadership training to you. Click here to update your details.
Ali McClure training 2018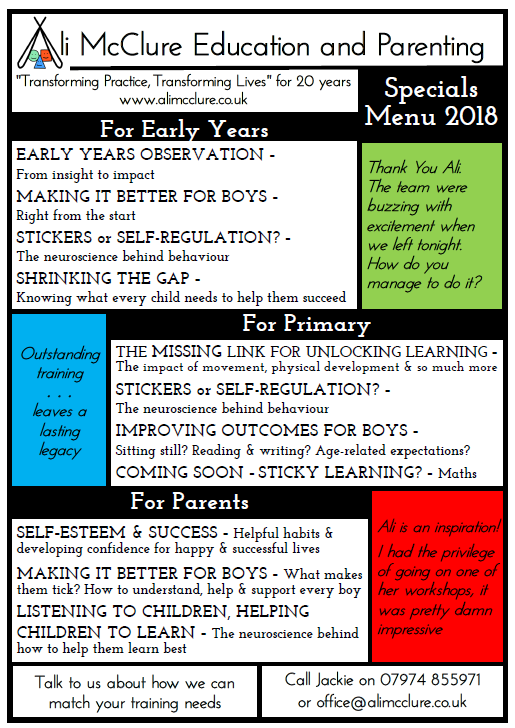 Maths SKE Workshops 2018 - Surrey Plus Math Hub
Primary Maths Subject Knowledge Enhancement Course
Wednesday 7, 14 March, 25 April, 2, 9 , 16 & 23 May, 2018, 4-6pm
Highfield South Farnham School, Weydon Lane, Farnham GU9 8QH
This 7 week course is aimed at any Primary teachers (including NQTs) wishing to improve and develop their knowledge of progression and pedagogy within the KS2 curriculum.
Topics will include:
1. Number Sense & Addition
2. Subtraction
3. Multiplication
4. Division & Ratio
5. Fractions (part 1)
6. Fractions (part 2)
7. Decimals & Percentages
Only £70 per participant
Book now: www.surreyplusmathhub.co.uk/eventbooking
Every teacher is a teacher of SEND - FREE CPD event
Book your place now on the next FREE CPD event (read on)
You are invited to our next event in the 2017-2018 free Programme of CDP events

Every Teacher is a Teacher of SEND
NEU Professionals FREE CPD event
Saturday 17 March 2018
09.30 registration (10.00 start) – 15.30
Euston, Central London (venue tbc)

NEU Professionals is our network to support trainee and newly qualified teachers through training and induction.

Planning for Success is our regional programme of free workshops and networking events designed to complement the training provided by ITTs and to equip members in London and the South East with the knowledge and skills, not only to survive but to thrive in their first few years of teaching.

This session will outline key expectations on classroom teachers around SEND provision and provide an opportunity to ask questions and share ideas so that we can help every child reach their potential. Lead by NEU Policy Adviser, Anne Heavey, we are running this session for the second year running on this important topic due to popular demand.

There will be a choice of sessions in the afternoon. When booking, you will be asked to choose which session you would like to attend. Choices are:
Session 2A: Brave Assessment
Session 2B: No one likes change! – how to negotiate reorganisations and redundancies
Session 2C: London is your classroom – Teaching STEM at KS3 using London as your classroom
Session 2D – Gender in the classroom

Please note: booking is essential and places are limited for this hugely popular event and please only book a place if you are fully committed to attending on the day. If after registering for your place, you find you are unable to come, please let us know ASAP so that we can allocate your place to someone on the waiting list.
Lunch and refreshments will be provided. Please provide details of any dietary requirements and we will endeavour to cater for these on the day.
Click here to register for a place.
If you have any questions or queries, please contact Susan Martin susan.martin@neu.org.uk t. 07921 697919
The Resilience Project
Are you interested in Resilience training? The Resilience Project was written by a Surrey Headteacher in conjuntion with Kingston University, to support, nurture and guide NQTs through their first year of teaching.
The course covers ways of:
Discovering that confidence ebbs and flows over time
Understanding the impact of stress on confidence levels and how to combat its effects before they happen
Reflecting on how to react positively to challenges that come up
Developing support networks both in and out of school
Uncovering the individual's motivations and how to make colleagues aware of these
To download a flyer to give to your Headteacher, click on the link on the attachment on the page below.
Conference opportunity for NQTs / NQTS +1 OR 2
On Saturday 14th October 2017 in London, the Chartered College of Teaching is proud to be hosting an event for those in the early years of their teaching career. At this event they will be exploring some of the key principles of teaching practice and the challenges teachers face today. You will be hearing from a variety of speakers, sharing their knowledge gathered throughout their career.
All are welcome to attend this Early Career Teacher conference although student and trainee teachers, Newly Qualified Teachers (NQTs) and those with less than three years' teaching experience may find this conference programme of most relevance. Reduced delegate fees are available for NQTs and Chartered College members. Student Teachers registered with the Chartered College are also eligible to join us at this event free of charge.
We have a fantastic programme of speaker sessions which includes:
Teaching without Limits - Dame Alison Peacock, Chartered College of Teaching
Promoting positive behaviour in the classroom - Dr Tim O'Brien, UCL Institute of Education
Engaging with research - Nick Rose, Teach First
Those That Can…Teach - Amjad Ali, Aureus School
Workload: securing a work-life balance for you and your colleagues - Mary Bousted, National Education Union
Laura McInerney, Editor – Schools Week will also chair a panel discussion, Surviving and thriving in your first few years, with teachers at different stages of their practice, sharing their experience and answering questions from those new to the profession.
Lunch and refreshments will be provided and there will be chance to network with colleagues and visit our exhibitors which include Association for Language Learning, Bloomsbury, Crown House, Education Support Partnership, The English Association, The Geographical Association, NATRE and SAGE. Don't miss out - book your place today!
Early Career Teacher conference
Saturday, 14th October, from 10.30-16.00
Held at Friends House, 173-177 Euston Road, London NW1 2BJ